Various Sizes, Styles & Gorgous Colours to Meet all Requirements
Premium Enameled Cast Iron Cookware
Our La Cuisine series is a range of classically-designed pieces by the much-lauded Marcus Notley.  Aesthetically beautiful with gorgeous deep colours, they can be brought straight to the table.
Product Feature & Patented Design:
The handles have a unique wide-angle wedge profile that provides a comfortable and more importantly,  a very secure grip.
The top of the lid has a distinctive set of 3 stepped ridges. These collect flavored steam droplets and allow them to gather, drop and disperse more evenly back into the food being cooked. This ensures the food stays moist and improves the flavor.
The inside of the pots has a large radius corner for ease of use with cooking utensils and to remove corner food traps.
The base of the pots is slightly thicker than the side walls. This helps to create a more even distribution of heat across the floor of the pots.
Super tough Matte Black Enamel Coating finish internally.
Superb quality seamless stainless steel (oven-safe) knob.
Cast Iron cookware is highly regarded because of its ability to retain and slowly dissipate/distribute heat.  These characteristics – storage and distribution of heat – allow the perfect preparation of crispy meat and aromatic vegetable dishes.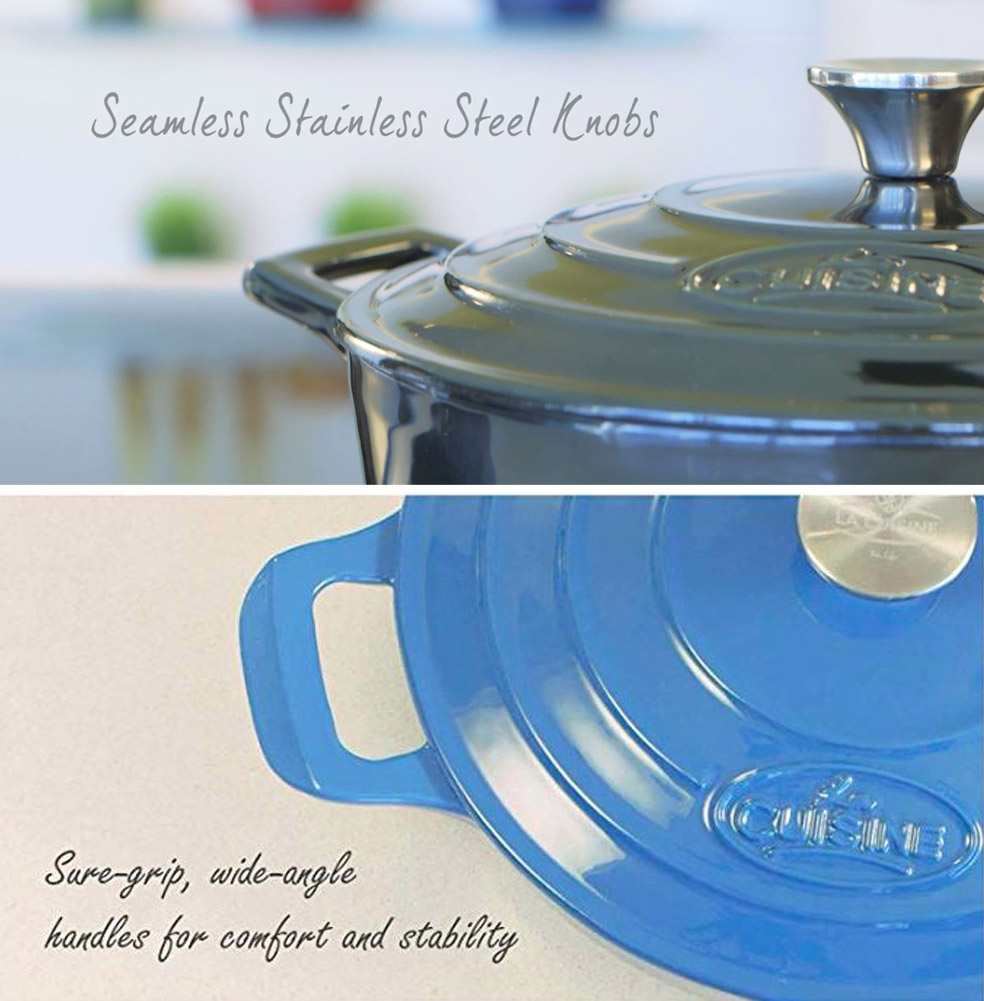 Discover the Benefits of the PRO Range
The PRO RANGE
 is even better for high surface cooking and searing. Whether you are a professional chef or not, La Cuisine 
PRO is everything you could wish for! 
Unbelievably tough internal matte black enamel coating which uses state-of-the-art  Japanese enamel frit. The enamel withstands metal utensils and allows a patina to develop on the surface which, in time,  develops non-stick properties. The more often it's used, the better it gets.  Pre-seasoning is completely unnecessary.
Wonderfully versatile – ideal for frying, grilling, roasting and slow-cooking
Excellent food-release properties
Suited to all hob types, including induction
Simple to clean
Using the latest technology, we have designed and produced a range of the highest quality cookware, but at an affordable price.
All our products have been tested for and comply with BS EN 12983 2000.
At La Cuisine we value the art of cooking. Our cast Iron Range of cookware is stylish, versatile and guaranteed to last a liftetime. We hope you enjoy.
Top Rated Products
LA CUISINE UPDATES
Join Our Newsletter
Be the one getting the latest news!
LA CUISINE COOKWARE
Question ?
Welcome to have your feedback!
Do you have questions about how Economist can help your company? Send us an email and we'll get in touch shortly.